HR Students
Welcome HR Students!
To join NEPA SHRM at our upcoming events, click here.
Inquiries related to the student relations committee should be directed to:
Regina Corchado,SHRM-SCP
Student Relations Committee Chair
reginacorchado@kings.edu
LinkedIn Salary Insights
https://www.linkedin.com/salary/?trk=jobshome_linkedin_salary 
This feature allows you to search the base salary for a position in a specific location. For example, using Salary Insights to search the estimated median salary for a Human Resources Manager in the Greater Scranton Area, which can be filtered by years of experience, see below. This tool can be useful during salary negotiations to determine if you are below or above the average comp-ratio.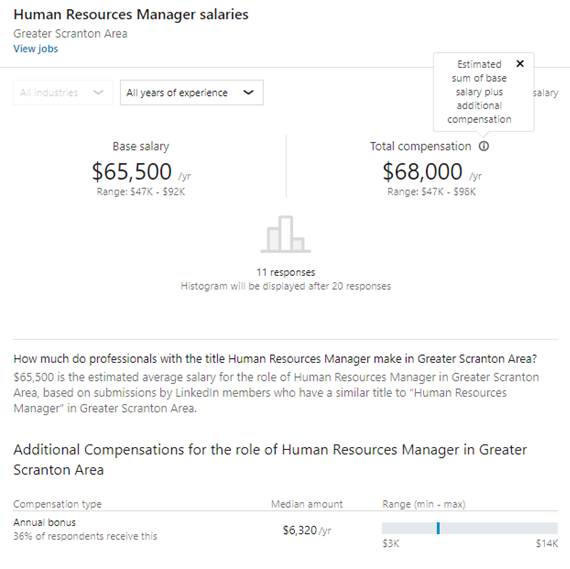 LinkedIn and Professional Networking
LinkedIn is a business, employment, and professional networking service that operates via websites and mobile apps. Over 20,000 companies in the United States actively use LinkedIn to recruit job seekers 70% of job seekers are hired at a company in which they had a LinkedIn connection. Tips include:

Optimize your profile:
• Create a keyword-rich headline
• Add a professional headshot; profiles with a profile picture are viewed 14x more
• Write a summary that sells your accomplishments
• Include your email and other contact information
• Your profile is often viewed as supplemental to your resume. Therefore, don't feature the same information.

Establish a LinkedIn Presence:
• Regularly connect with new people to build your connections (friends, family, co-workers, etc.)
• Join professional groups
• Share industry-specific content
• Comment and like other's posts

Reference your LinkedIn on your physical resume:
• Create a Custom URL

Use LinkedIn's Job Search:
• Create job alerts to have new jobs emailed to you

Check in with your connections:
• Stay on top of new developments within your network
• Congratulate others for their accomplishments (new jobs, promotions, etc.)

Research company pages:
• See if anyone within your network is connected to the company
• Follow companies that interest you

Use LinkedIn to your advantage:
• Put in the time to build influence and valuable connections
• Don't just exist on LinkedIn, visit regularly and be active
Online Resources
"20 Steps to a Better LinkedIn Profile in 2020"
https://business.linkedin.com/en-uk/marketing-solutions/blog/posts/conte...
"Four Tips to Network on LinkedIn"
https://blog.linkedin.com/2020/may/june/12/four-tips-to-network-on-linke...
"Master your LinkedIn profile – the dos and don'ts of online business networking" https://www.hult.edu/blog/master-linkedin-profile-dos-donts-online-busin...